Welcome to Hotel de la Poste – La Grande Verrière
---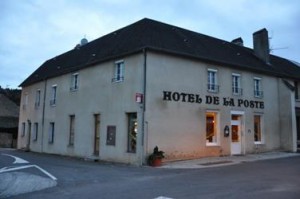 Located in the middle of Burgundy, Morvan is agreen area of forests, rivers, citiesHôtel de La Poste La Grande Verière and villages rich in heritage..
Our hotel restaurant is not far from the A6 motorway, (axis Paris – Lyon), in the middle of an area which as well accommodates sportsmen, impassioned people of culture, historyand old stones as well as in love ones with nature in search of greenery and relaxation.
The Beuvray mount sheltering at its top the city-oppidumof Bibracte is to Only 20 km.
No Results Found
The page you requested could not be found. Try refining your search, or use the navigation above to locate the post.
Our hotel has six rooms, completely renovated, quiet and all with their own charm. All our rooms are equipped with duvets. But if you prefer we can prepare your bed with sheets and blankets (thank you kindly specify it on booking).

Its opening dates from April 1, 1976 and after a fire incident the establishment has a new makeover with a discount to disabled accessibility standard. Held for 40 years by Cecile, it was passed on to her children Claudine and Mathieu in 2011